Bon appétit Ishikawa!/Mushroom
Impressed by an irresistible flavor and aftertaste that has never been experienced. 2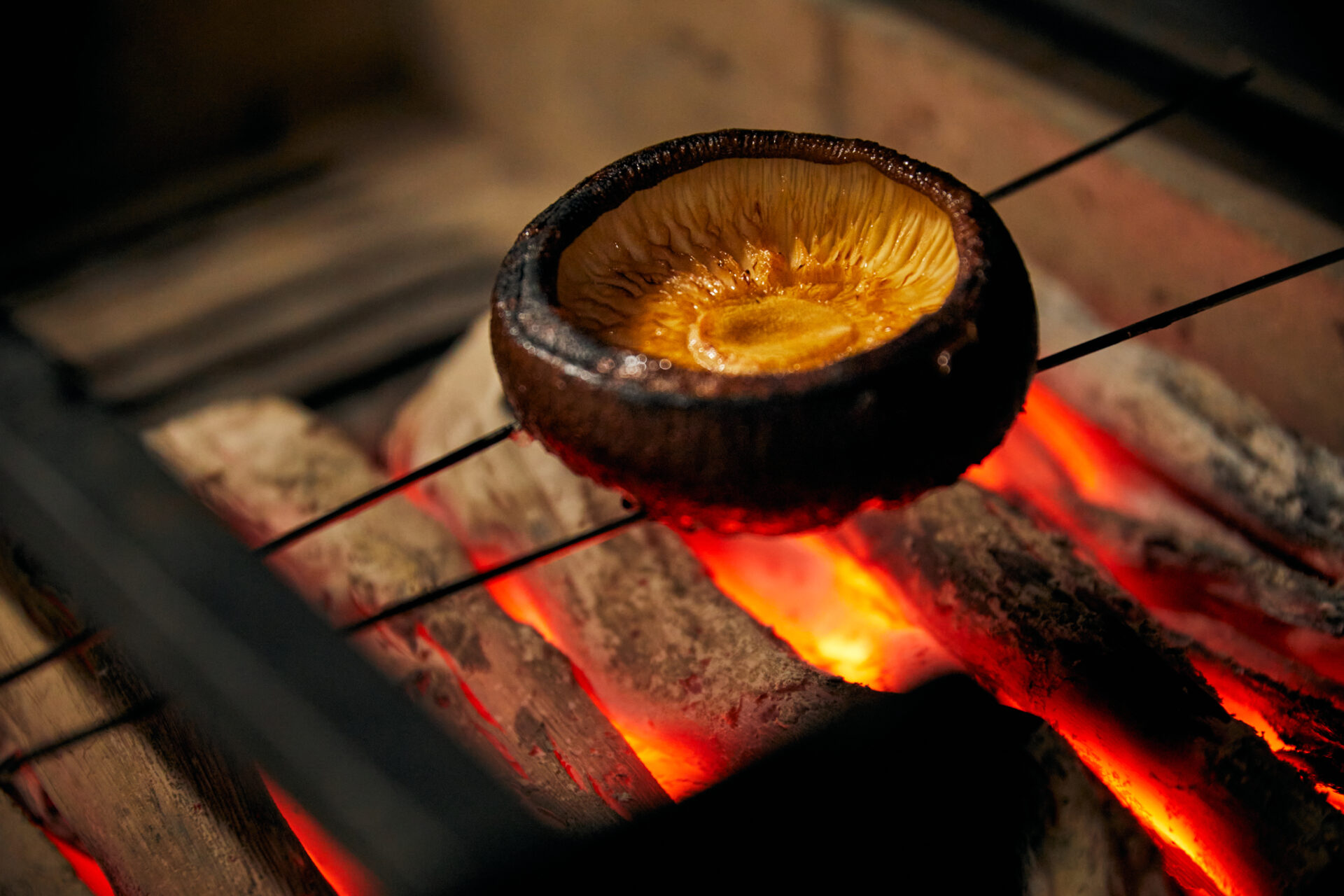 Shiitake mushroom cultivation, born from the wisdom of people who coexist with nature in the Okunoto area
Isohachi Shin, the first chairperson of the Okunoto Genboku Shiitake Mushroom Association, has grown shiitake mushrooms in Suzu City for 50 years since he was 20 years old. He is one of the pioneers of mushroom cultivation in the Okunoto area. He told us the history of mushroom cultivation in Okunoto.

Mr. Shin says mushroom cultivation was selected as an act of desperation by farmers who were having trouble finding candidate crops for Okunoto. Rice farming was difficult, since there were no spacious plains. Although the ease of transportation has since improved, 50 years ago it was difficult to transport fresh vegetables to far places. They did not have enough funds to start dairy farming. As a result, they decided on the production of dried shiitake mushrooms.

"Dried mushrooms can be shipped throughout the year regardless of the transportation conditions. In the Okunoto area, salt had been produced for a long time; therefore, natural woods of quercus serrata and other trees were maintained to provide a lot of firewood and charcoal to boil down salty water, instead of planting cedar and cypress trees. The demand for firewood decreased in accordance with declining salt production, so I thought the natural woods could be used for mushroom cultivation. Therefore, I started mushroom cultivation with my friends, splitting the costs."

In general, peninsulas are said to be adequate for mushroom cultivation. Strong winds blow, moisture is at an adequate level and there is a big difference in temperature between day and night. Mushrooms produced in Noto were very good in quality. People in Ishikawa are fond of mushrooms, and dried mushroom production grew successfully. At its peak in the middle of the 1980s, there were about 200 mushroom farmers and the production volume reached 100 ton. However, Chinese dried mushrooms became popular, and the price of Japanese dried mushrooms dropped sharply. Many farmers gave up mushroom cultivation, and soon production dropped to 1 ton.

Mr. Shin continued mushroom cultivation persistently. From the 1990s, he started to grow fresh mushrooms using the new kind of 115 fungus and worked for branding of Noto 115 in cooperation with the Japanese Agricultural Cooperatives. Noto Temari was the flagship product produced as the result.

"When the Noto Temari, which I had grown like my own child, were priced at over 100,000 yen for the first market transaction, I felt like I finally reached the goal, although the price might have been a festive quotation to celebrate the first sale," says Mr. Shin. The Noto Temari brand has grown greatly, supported by producers' efforts.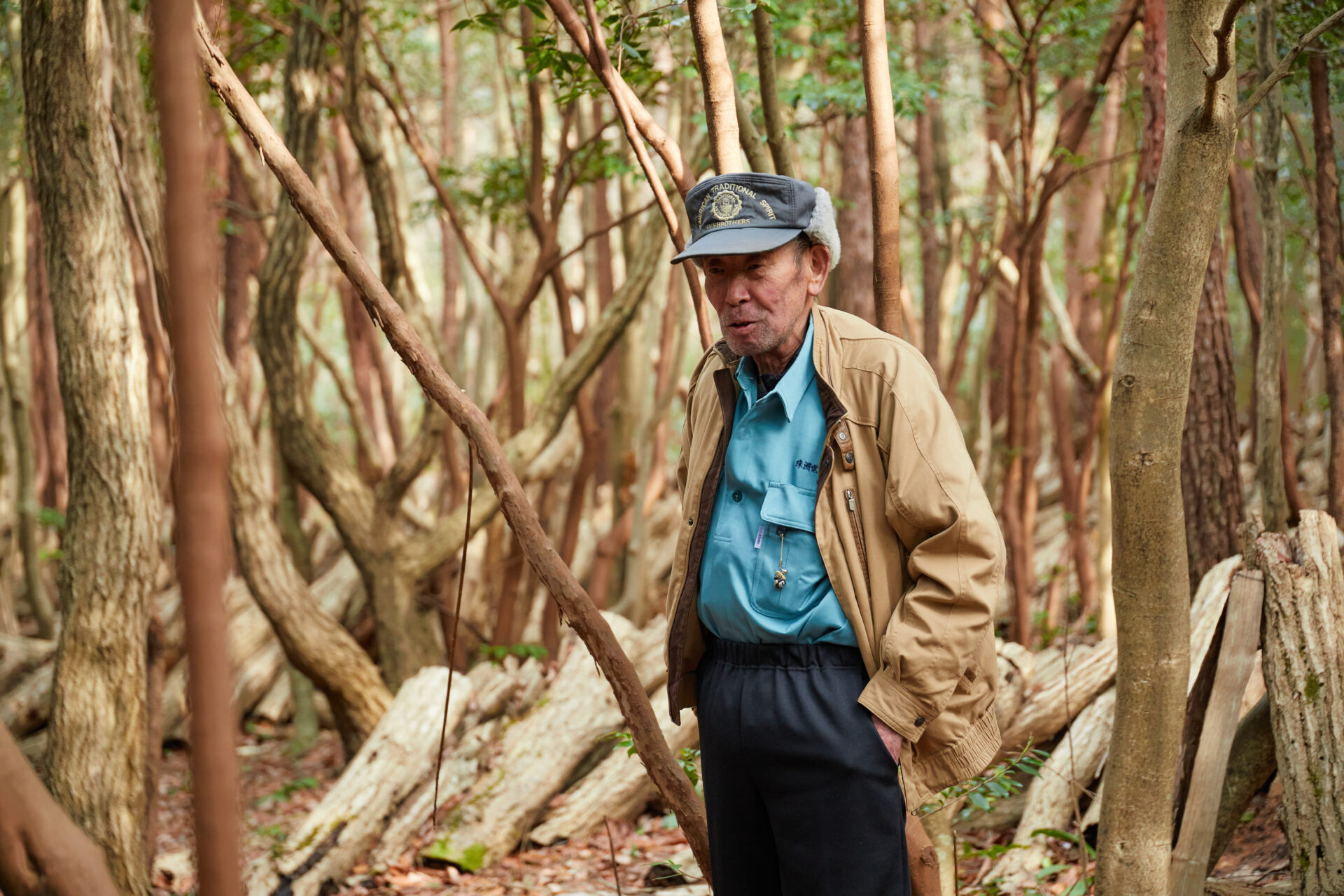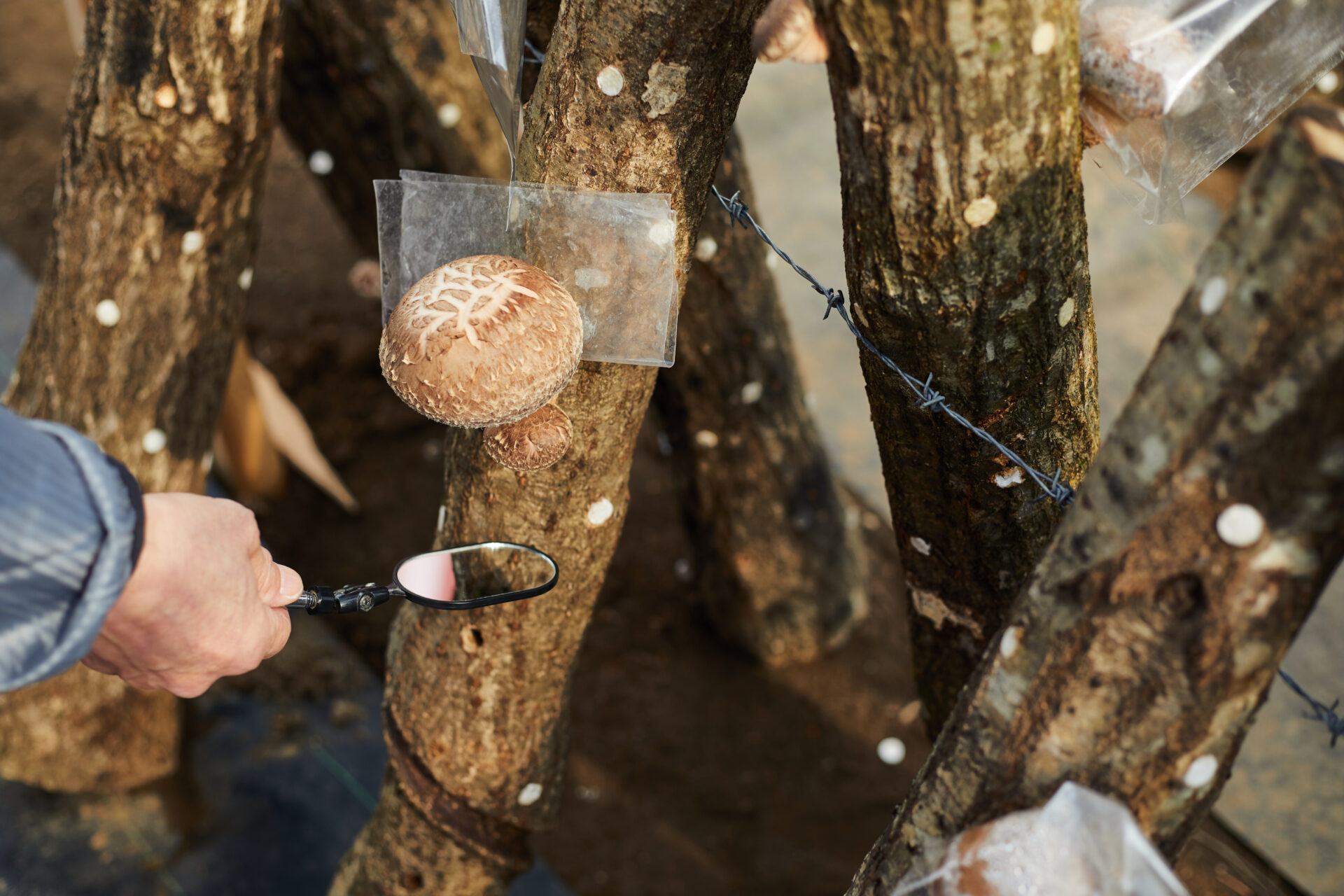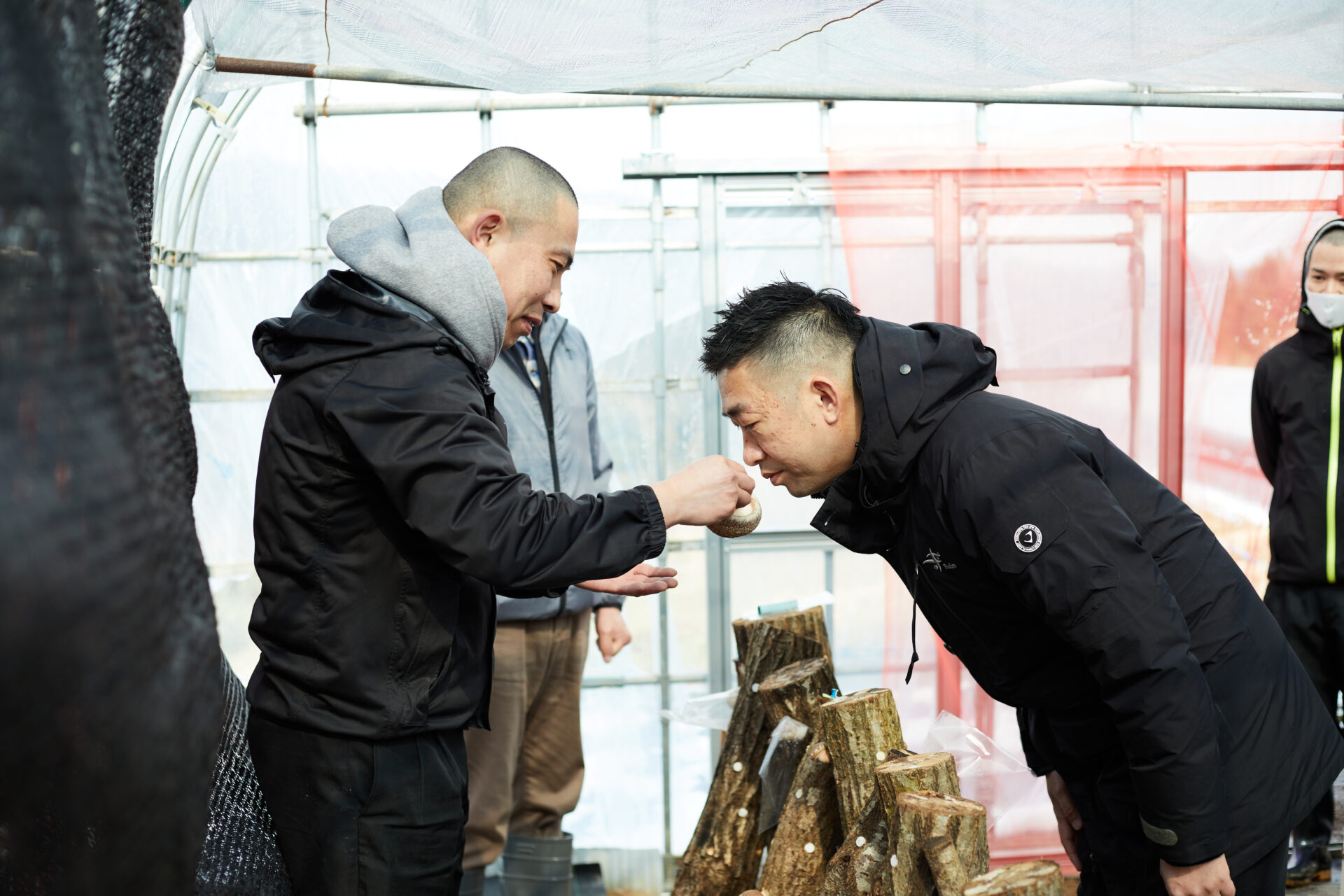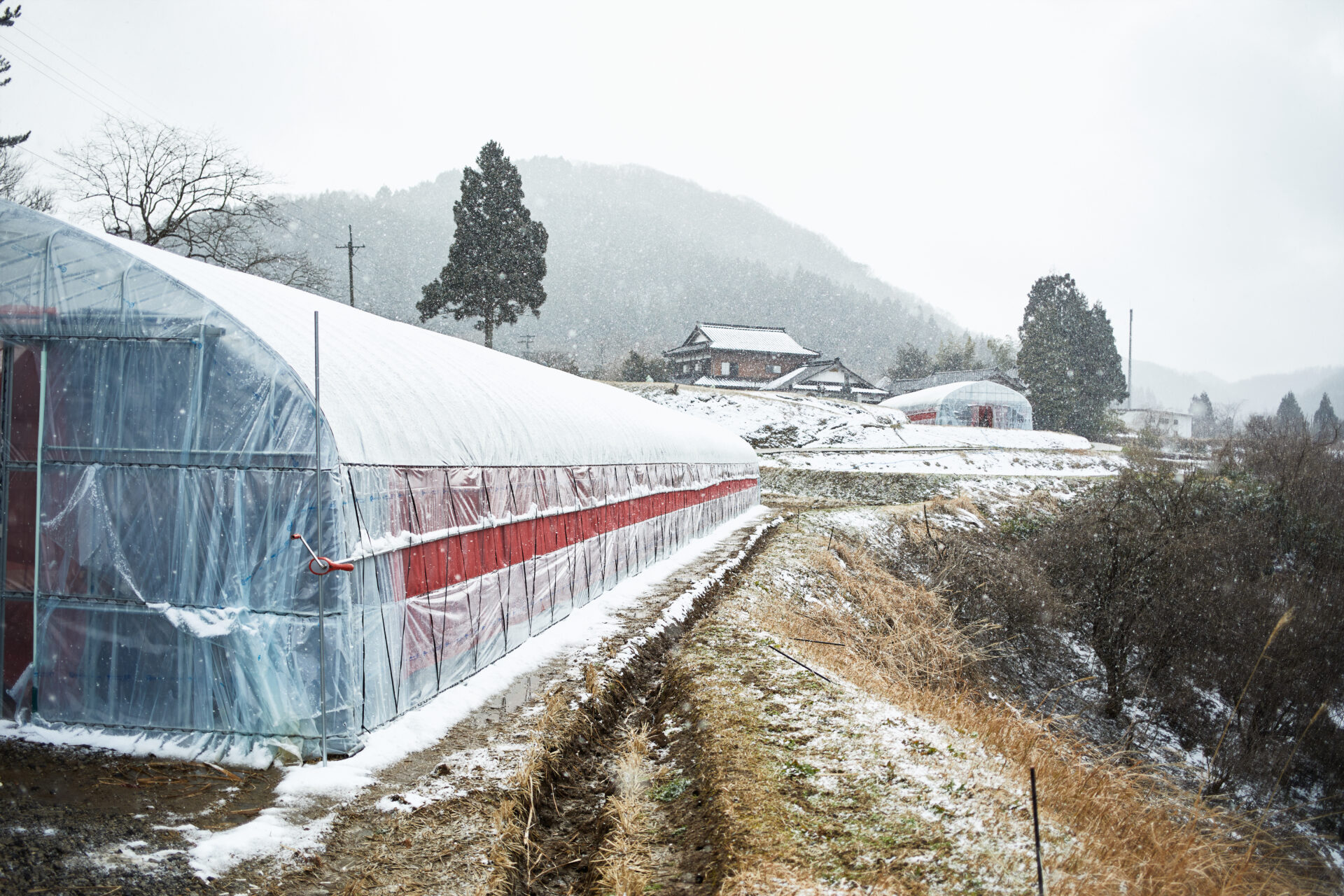 The secret to producing many Noto Temari mushrooms is careful watering.
Masaharu Yamagata grows Noto 115 in a village at the uppermost stream of the Omata River in Anamizu Town. It has been three years since he started farming in his hometown after retirement.

The greenhouse, located at an altitude of 150m, is particularly chilly and filled with clean air. Mr. Yamagata manages 1,650 logs. Although the number is not so large, his Noto Temari production rate is very high, and it is attracting other producers' attention. For Mr. Yamagata, the most important aspect of mushroom cultivation is watering. He waters each mushroom carefully with a spraying hose, being careful not to spray water directly onto the mushrooms. He spends three hours each time.

"I use clean water from the mountains and try to water very carefully. I'm still fumbling my way, but I've found that temperature and watering have much influence on mushroom quality and harvest. The work is hard, but the mushrooms become tastier the more carefully I grow them. I often eat mushrooms cooked with butter and soy sauce. They really taste good, and I feel really happy."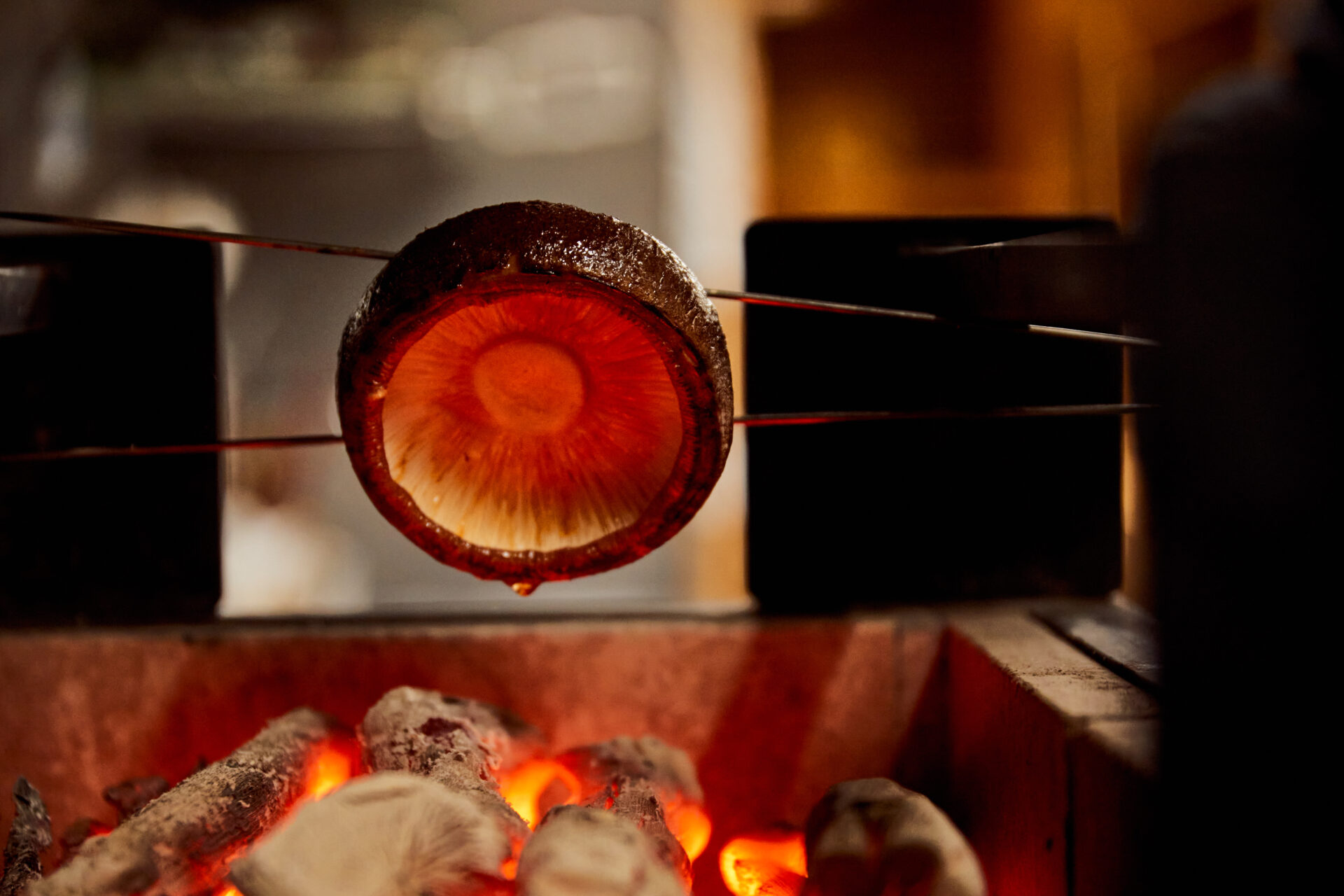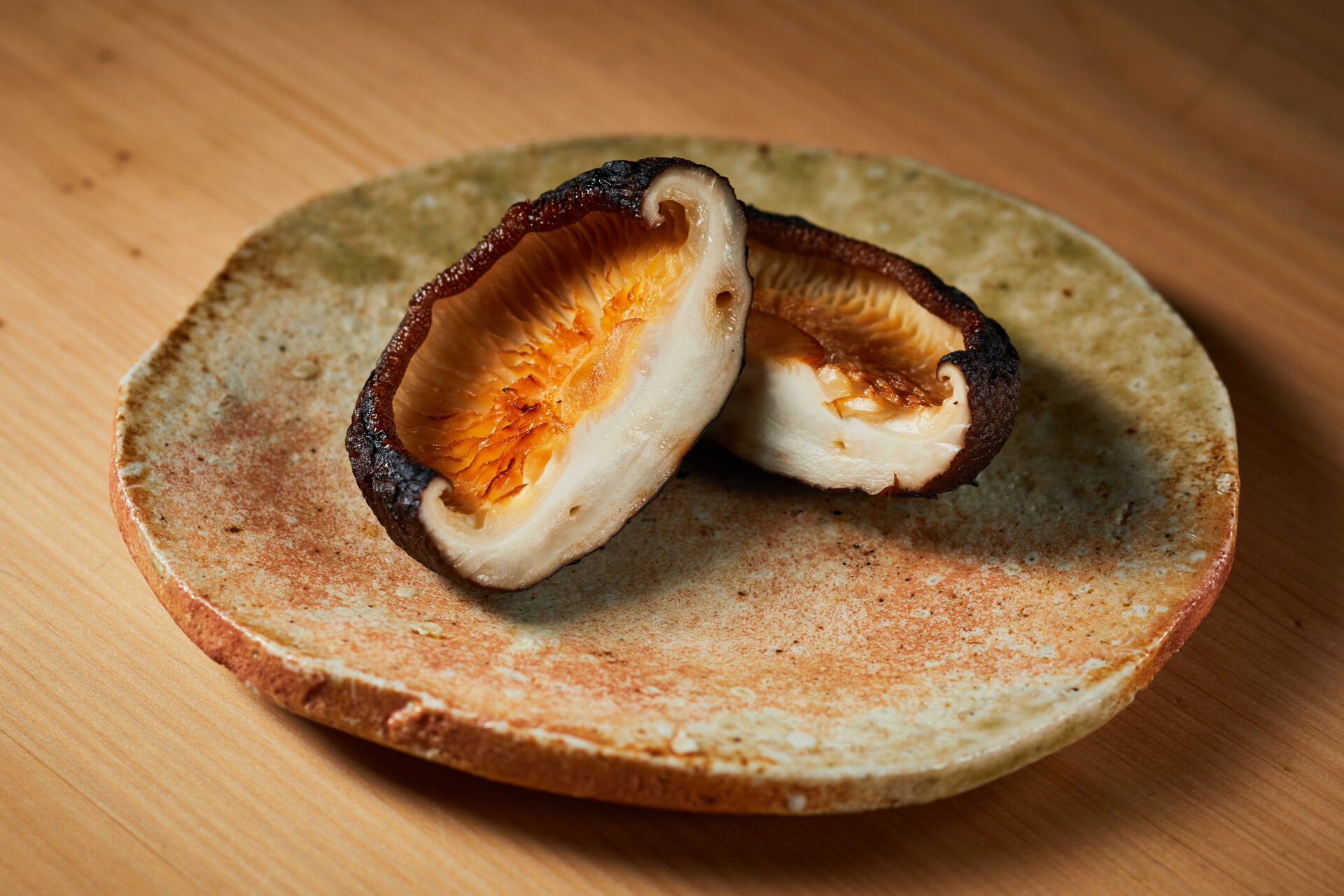 An incomparable ingredient that will give you goosebumps when you hold it and cook it.
Mr. Kataori tried the mushrooms from Mr. Takamori, Mr. Muroki and Mr. Yamagata. The mushrooms were cooked simply by grilling over charcoal with a basting sauce made from soy sauce and bonito broth. The mushrooms were removed from the grill before cooking completely, since the remaining heat would finish the job. They tasted them right after cooking. After one bite, Mr. Kataori gave an unintentional groan expressing his delight.

"This is really good. Excellent. The smell and taste are completely different from other mushrooms. The elegant texture is like that of steamed abalone. The aftertaste remains for a long time. I have goosebumps again."

In regular Japanese meals, shiitake mushrooms are only a side dish, but Noto Temari and Noto 115 can be a main dish. In a course meal, I present a mushroom that is grilled or boiled in front of the guest as a single dish, so they can fully enjoy the taste of mushroom. I'd like to convey the growers' thoughts along with the rich taste.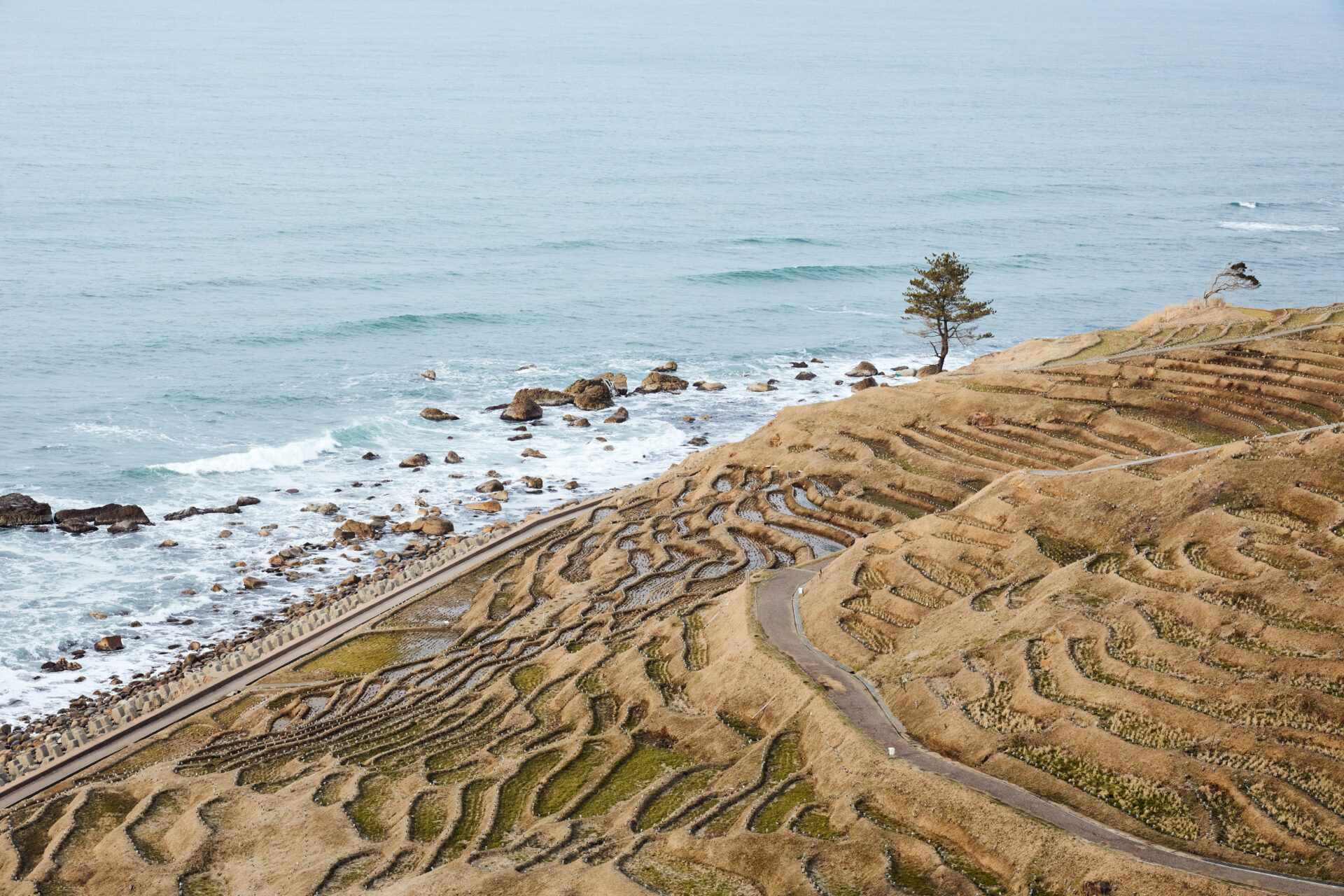 Photographs:SHINJO ARAI
Text:KOH WATANABE
(supported by Ishikawa Prefecture)
Here is the foods introduced.