Bon appétit Ishikawa!/Ruby Roman
Ruby Roman: the miracle grape with a brilliant ruby color created through Ishikawa's climate and the passion of the local people. 1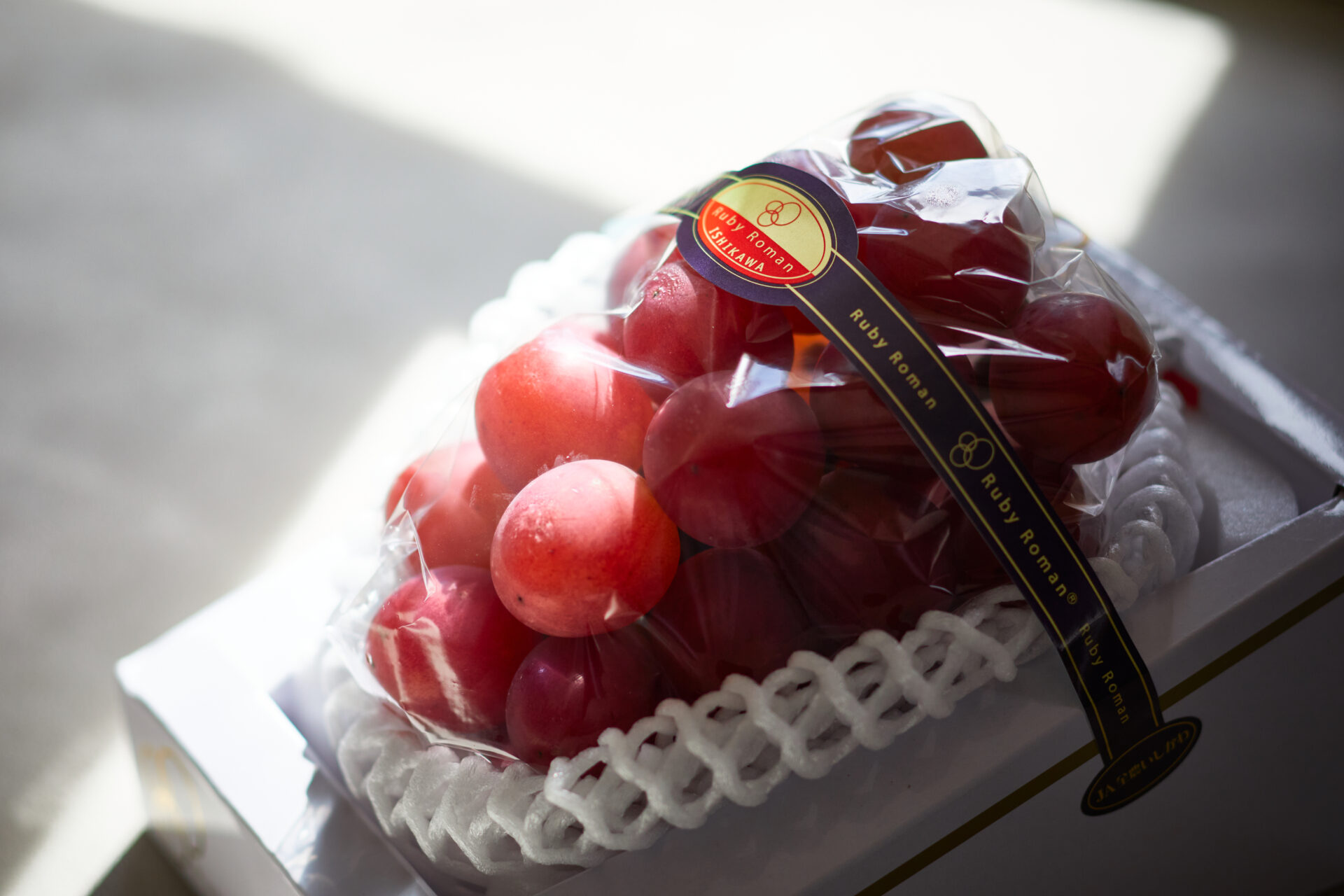 A visit to the production site of these mysterious grapes
One summer day, a world-famous chef carefully observed bunches of grapes, his large body bending down under the trellis of a vineyard in Ishikawa Prefecture. He is the patissier and chocolatier, Hironobu Tsujiguchi.

Mr. Tsujiguchi won the Japan Western Sweets Competition at the age of 23, the youngest in its history, and has won many major competitions in Japan and abroad such as La Coupe du Monde de la Pâtisserie, an international competition also known as the Patissier's World Cup. After opening Mont St. Clair in Jiyugaoka, Tokyo, he opened more than ten sweets shops such as the first roll-cake shop in the world, JIYUGAOKA ROLLYA, chocolate shop LE CHOCOLAT DE H and Japanese sweets shop WARAKU BENIYA. He continues to work earnestly.

Mr. Tsujiguchi peeled off half of the skin of a large grape and put the grape in his mouth. He said in excitement, "this is really juicy. Ruby Roman are unmistakably different from other grapes." He carefully tasted another and groaned, "the graceful sweetness and abundant juiciness are Ruby Roman's distinguished attraction." He was in a vineyard of Ruby Roman, the highest grade of grapes from Ishikawa. It was the peak of the harvest and there were many large bunches of grapes the size of ping-pong balls hanging from the trellises.

Mr. Tsujiguchi was born in Nanao City, Ishikawa Prefecture. He runs a cooking school in Kanazawa and maintains a close relationship with Ishikawa Prefecture to this day. He works in this prefecture for a few days a month. He is looking eagerly for new local ingredients in the prefecture; his favorites are Sakiyama strawberries from Nanao City and Kaga vegetables such as Gorojima-kintoki sweet potato. Although he is familiar with Ishikawa's food, this is his first time to enter a Ruby Roman vineyard, since they are strictly managed to prevent the seeds from being taken. Ruby Roman are the highest grade of grapes, developed over a period of 14 years, and Ishikawa is the only production area in the world.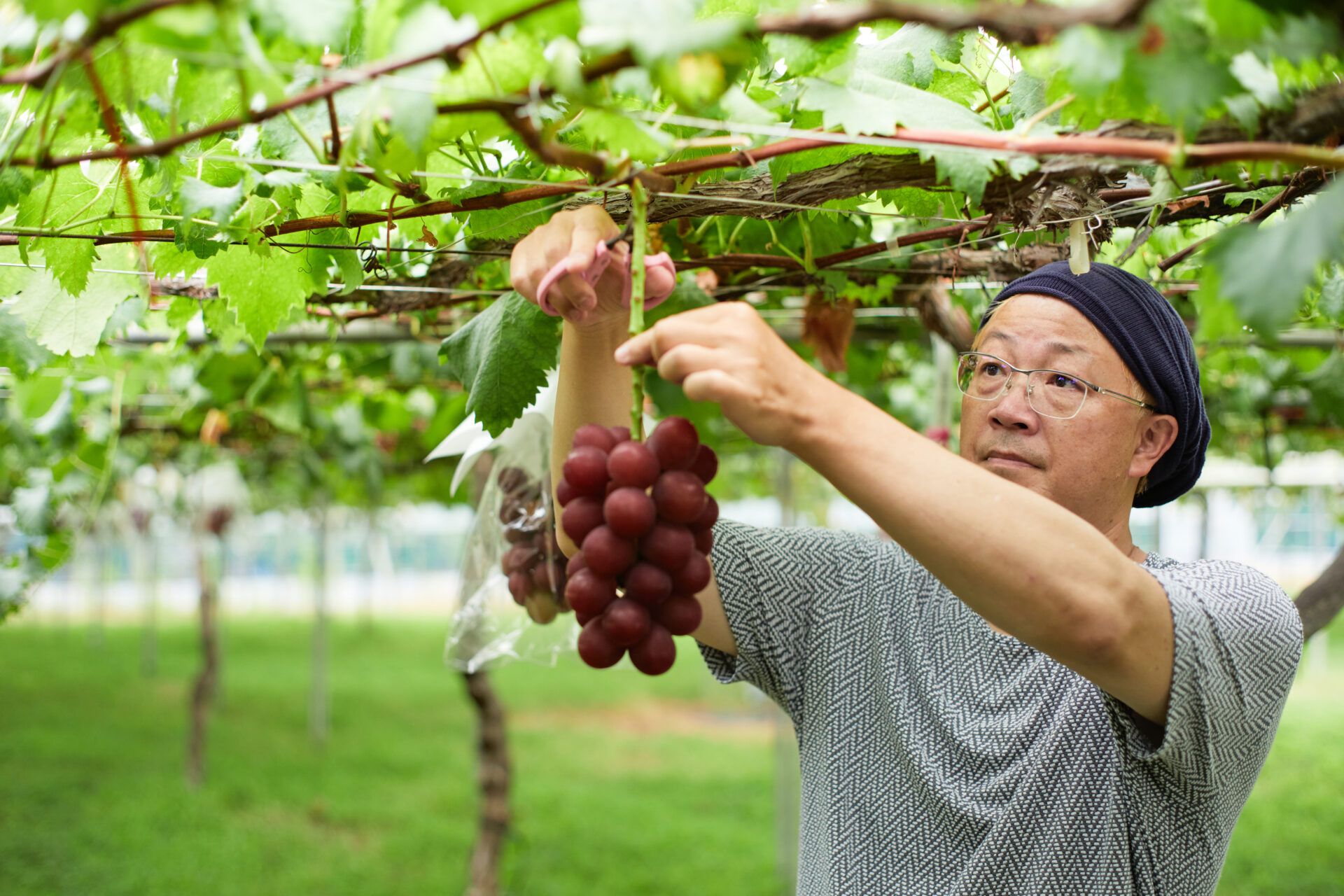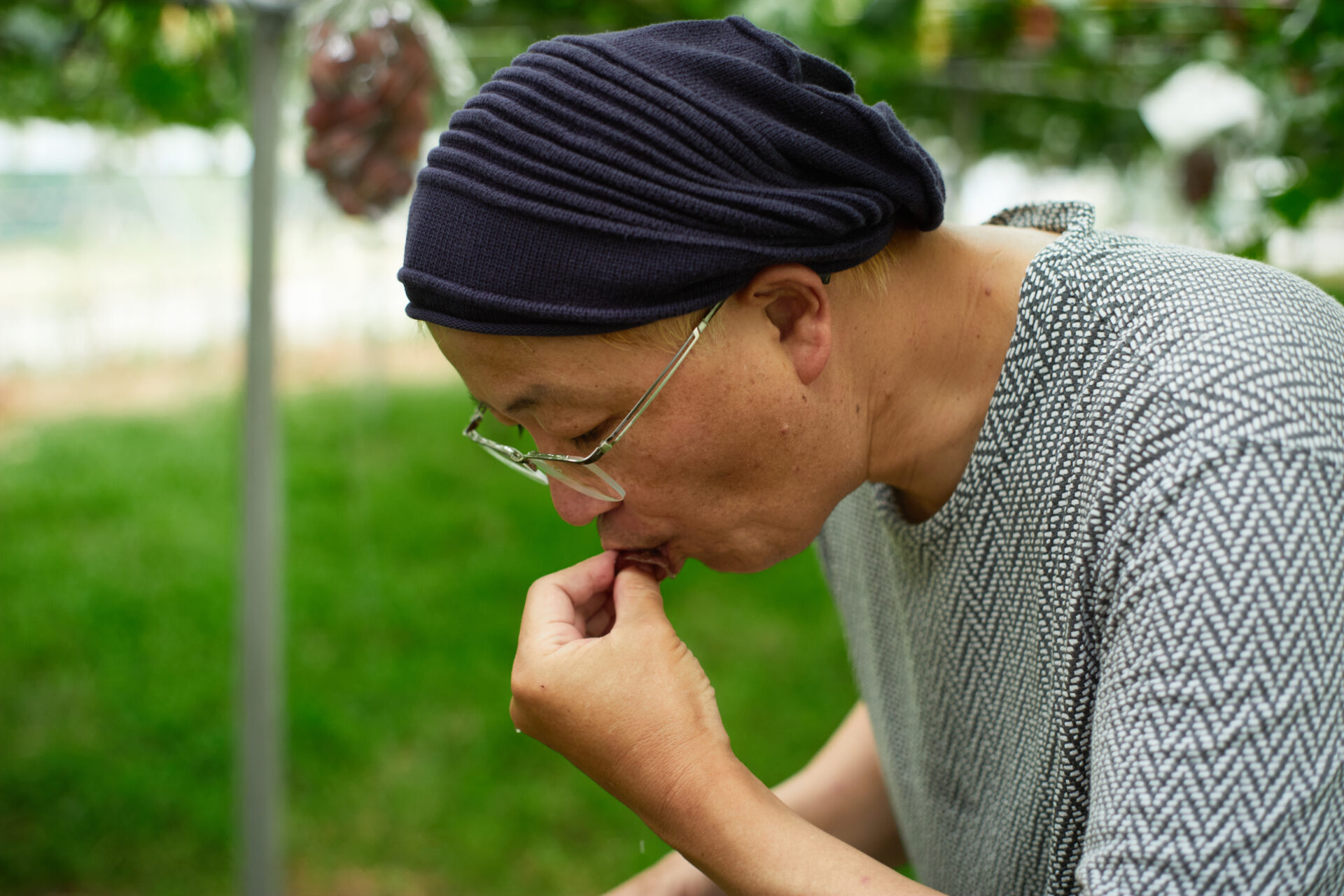 Large, and red. Searching for a new high-grade grape.
Ishikawa Prefecture Agriculture and Forestry Research Center started the development of a new grape breed in 1995 to meet the demands of grape farmers in Ishikawa. Before that, Delaware grapes were the main breed produced in Ishikawa for dozens of years. Delaware grapes are small red grapes, originally produced in the United States. They used to be popular in Japan, but the price has dropped since the 1970s. Instead, large, high-grade grapes such as Kyoho have become popular, and the demand for a new breed of grape to replace Delaware increased more and more.

Mr. Tsujiguchi says that he was familiar with Delaware grapes. "When I was a child, I often ate ice-cold Delaware grapes after swimming or playing in the sports club during summer. I always ate them at the end of the summer festival. Just like how oranges are put on kotatsu heated tables during winter, Delaware grapes were always in my house during summer, and we could eat as many as we wanted at any time. They were very tasty and I liked them very much, but they were not really precious.

The chief researcher of Ishikawa Prefecture Agriculture and Forestry Research Center, Hirofumi Isu, told us about the history of Ruby Roman development. "I have heard that farmers demanded a new type of high-grade, large red grape. The red color was important; it differentiated new grapes from black Kyoho grapes, and when packed with black Kyoho and green muscat grapes and sold as a set of red, black and green grapes, it would add value. Therefore, we collected and planted eight types of red grapes from around Japan; however, most of them did not turn red. One type turned a good color, but it was damaged after a single rainfall. Finally, we reached the conclusion that we should create a new hybrid type suited to our climate."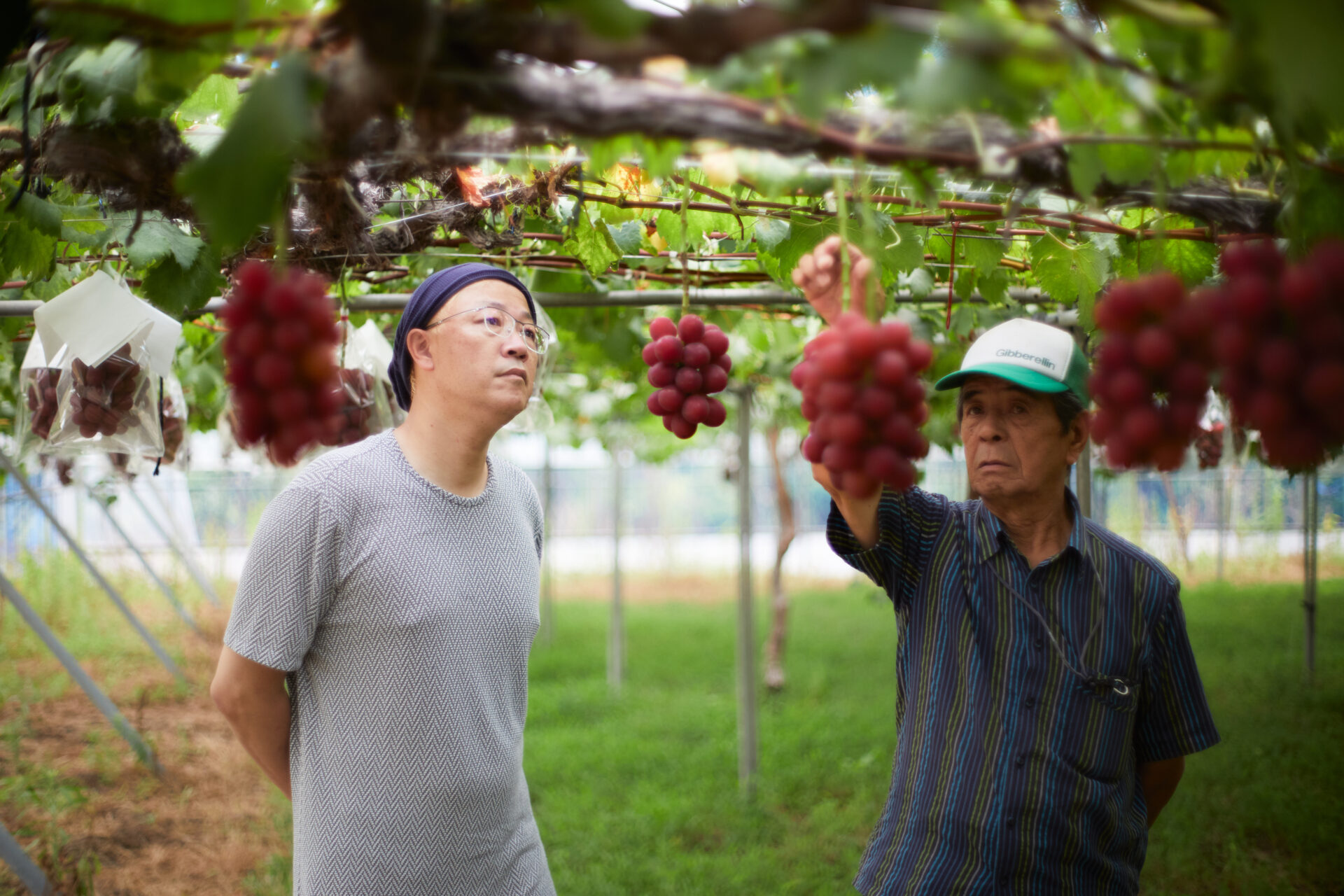 Sailing out over rough seas in search of undiscovered, ideal grapes
There is not much difference between the day and night temperatures at the production sites of Ishikawa; this seemed to be the reason for the difficulty in growing red grapes. They thought to crossbreed large grapes with red grapes, and selected the largest black grapes in Japan, Fujiminori, as the mother grapes. There were five members in the project. Using tweezers, they picked buds as small as the heads of matches, before bloom, removed the stamens and placed pollen on the pistils using cotton buds. Grape flowers bloom only for two days or so; therefore, they kept working for many hours in the greenhouses, even on holidays, concentrating on the minute work of watching the small flowers hanging from the trellises, using headband magnifying lenses.

An apple or pear contains about 10 seeds; however, a grape only has one or two. They could obtain only 40 seeds in total through this artificial breeding.

Mr. Isu: "The next year, in addition to the 40 seeds, they also planted 400 Fujiminori grape seeds. They took a chance, thinking that Fujiminori grapes might bear fruit through natural breeding. They then transplanted 10 seedlings grown by means of artificial breeding, as well as 70 Fujiminori seedlings, into greenhouses. They planted them at the rear of the research center, in the most unnoticeable area. Their boss and others were saying, "you have other work to do. You should not spend time on such things that are not expected to succeed"; therefore, the project was progressed in secret."

The grape vines started to bear fruit from the third year. Beyond their expectation, four out of 80 vines bore red grapes, and furthermore, all of them were Fujiminori grapes. Artificial breeding was not successful, but their attempt at low-likelihood natural breeding turned out to be a success. In those days, dozens of types of grapes were planted in the research center, and the pollen of one of them may have drifted through the air and bore Fujiminori grapes naturally. A miracle occurred.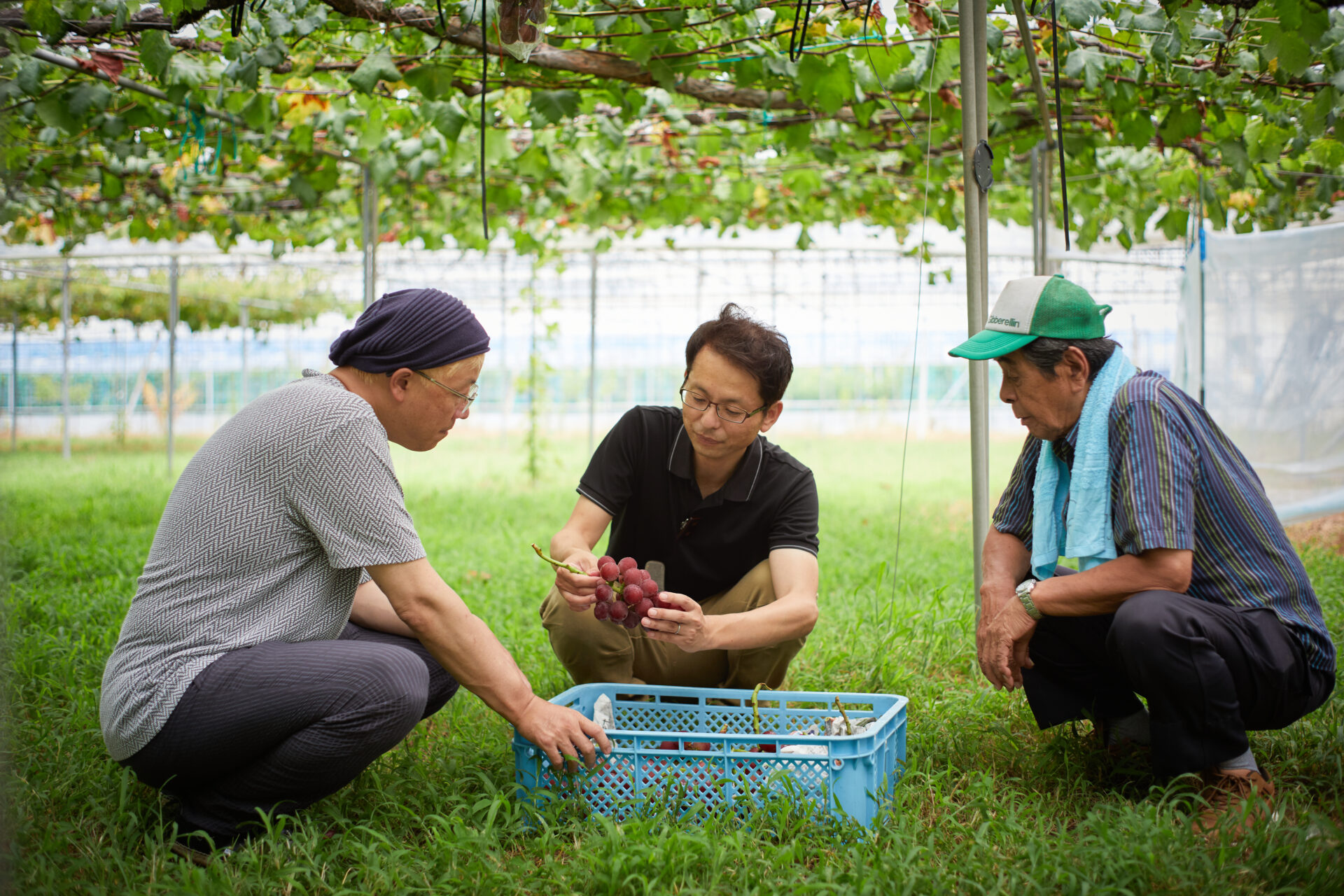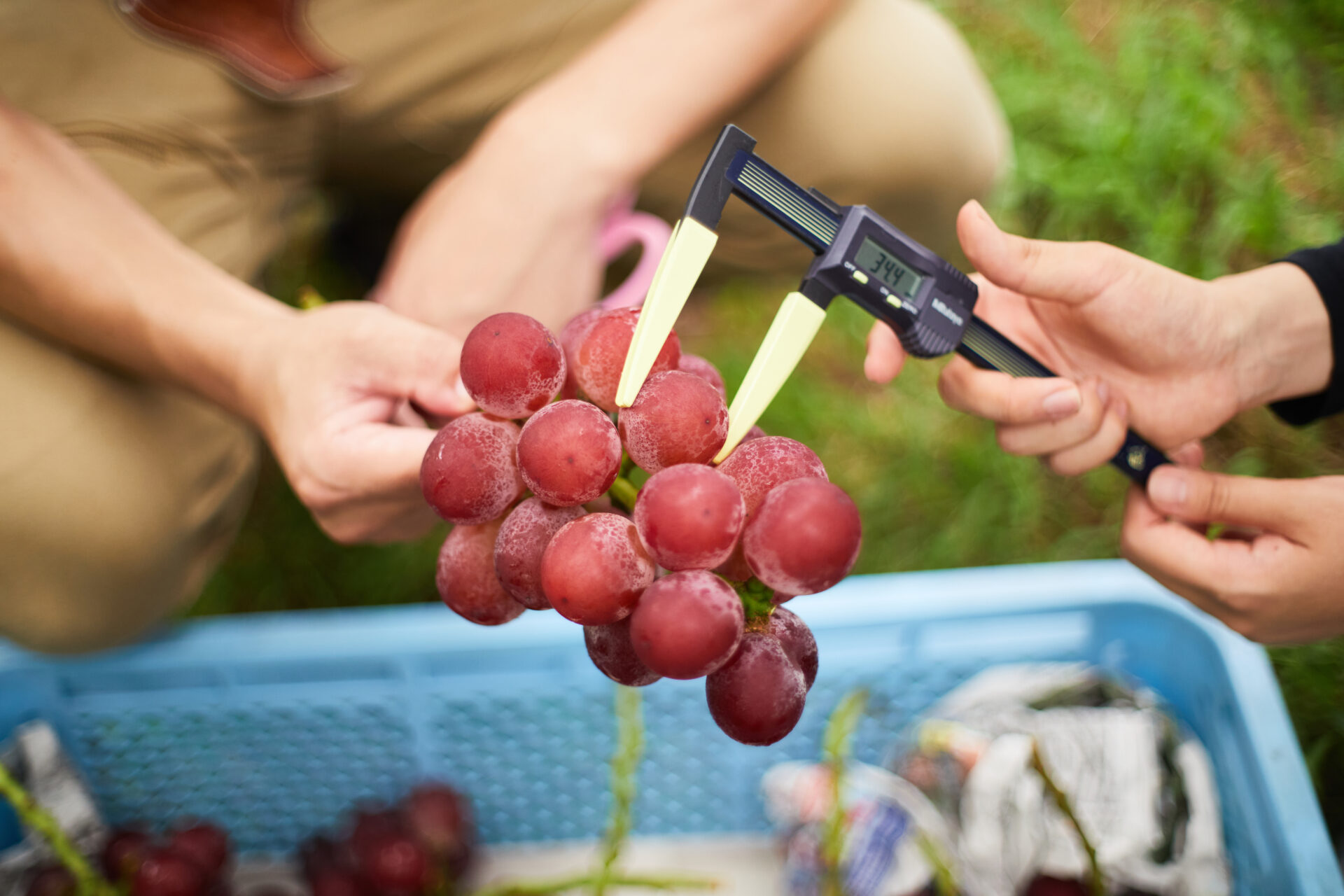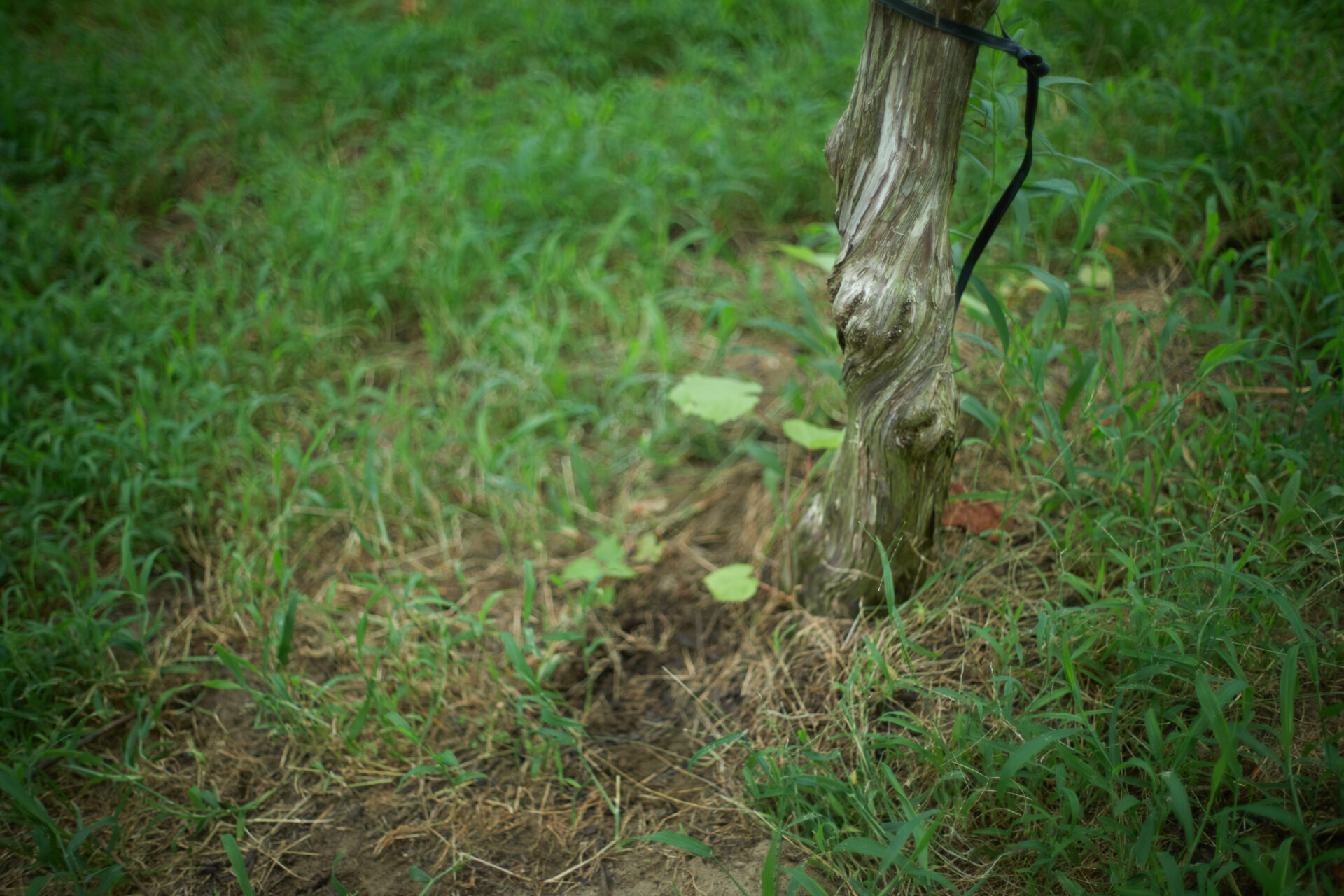 Their efforts of artificial breeding were in vain, but a miracle occurred.
From the four young vines, the one that bore the tastiest and brightest red grapes was selected as the mother vine to produce a new type of grape. The application process for breed registration was commenced, and the name was decided through a call to the public. Ruby Roman was selected as the name from over 600 candidates.

The branches of the mother vine were carefully grafted to increase the number of vines. Experimental cultivation from 50 vines was begun in five locations in 2005. In 2006, the producers established the Ruby Roman Study Group. The chairperson, Noboru Ota, looking back on those days said "we had many things to discuss. We exchanged information about how to grow Ruby Roman grapes, and we needed to set rules regarding circulation in order to make them a high-grade, brand-name product. We gathered after farming at 5:00pm and talked over dinner. The discussions became complicated and often lasted till midnight. We became tired and frustrated because of the early farming work and midnight discussions and sometimes yelled at each other. However, it was good that we discussed the issues thoroughly without compromise. All the producers argued till they were in agreeance, and we could work together to produce unparalleled Ruby Roman grapes.

The discussion theme was the Ruby Roman standards, which had much influence on cultivation, circulation and management. We agreed upon the following shipping standards:
‧ Each grape should weigh approximately 20g or more.
‧ The sugar content should be 18 degrees Brix or more.
‧ The color should meet the criteria shown on the color chart.

Grapes that satisfied all these standards are approved as Roby Roman by JA judges, and certification tags are attached. Stickers detailing the production site and producer are attached to special Ruby Roman shipping boxes. A bunch cannot be approved as Ruby Roman unless all its grapes are bright red and the bunch is of good shape, however large it may be. It was presumed that less than 50% of grapes could satisfy these strict standards.

In August 2008, the first Roby Roman auction was held at Kanazawa Central Wholesale Market. Mr. Ota was relieved to hear that a single bunch could receive a winning bid of up to 10,000 yen. Then there was a joyful surprise: a bid for 100,000 yen was heard. There was a stir among the crowd when hearing that. Although the bid might have been a festive quotation to celebrate the first sale, its equivalent price of 3,000 yen per grape became big news and made Ruby Roman famous in Japan. It was at that moment when all the efforts of the 20 members of Ishikawa Prefecture Agriculture and Forestry Research Center and the farmers who worked earnestly to produce Ruby Roman were rewarded.

At the first auction of 2011, the highest bid for one bunch was 500,000 yen. Actually, the winning bidder was Mr. Tsujiguchi.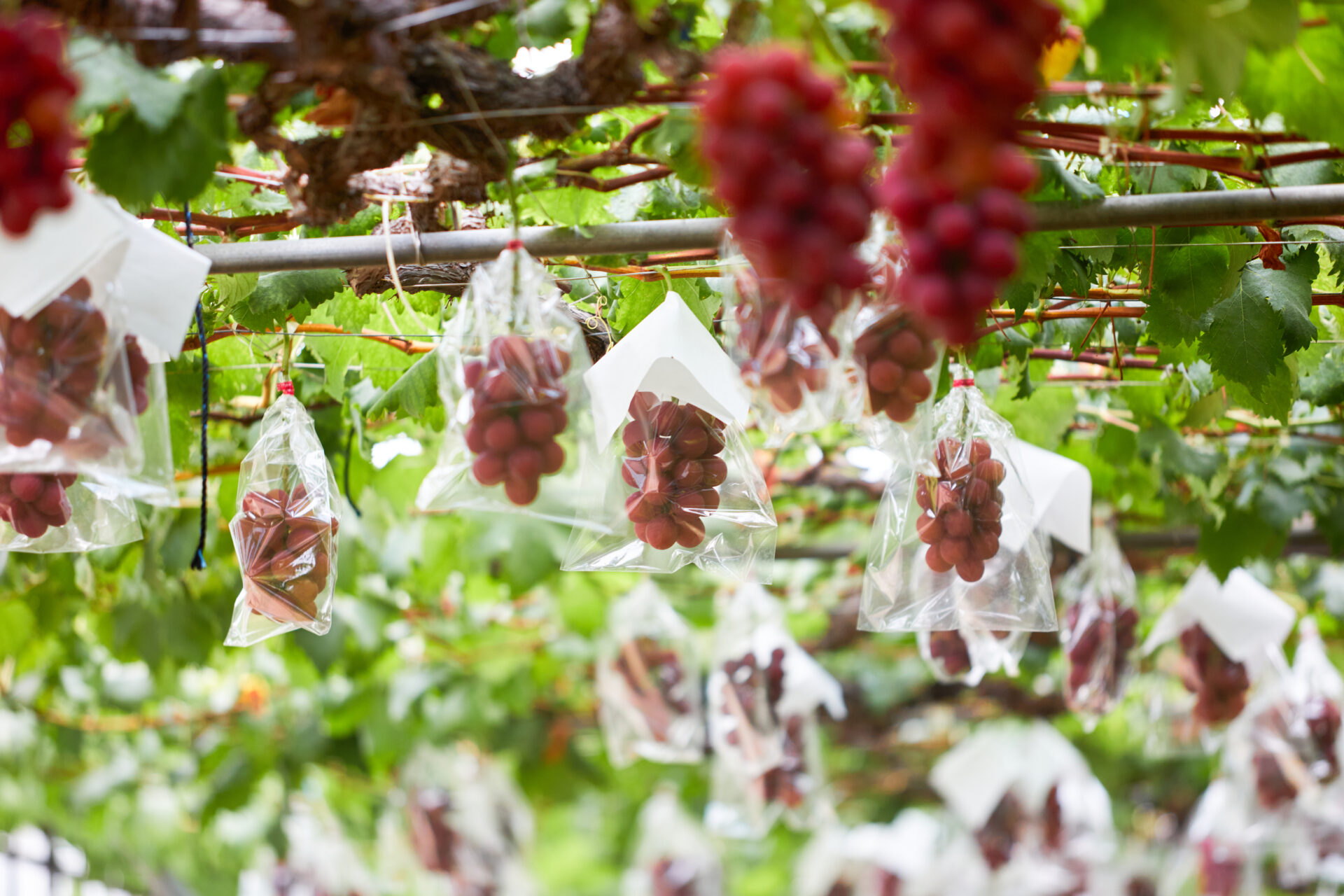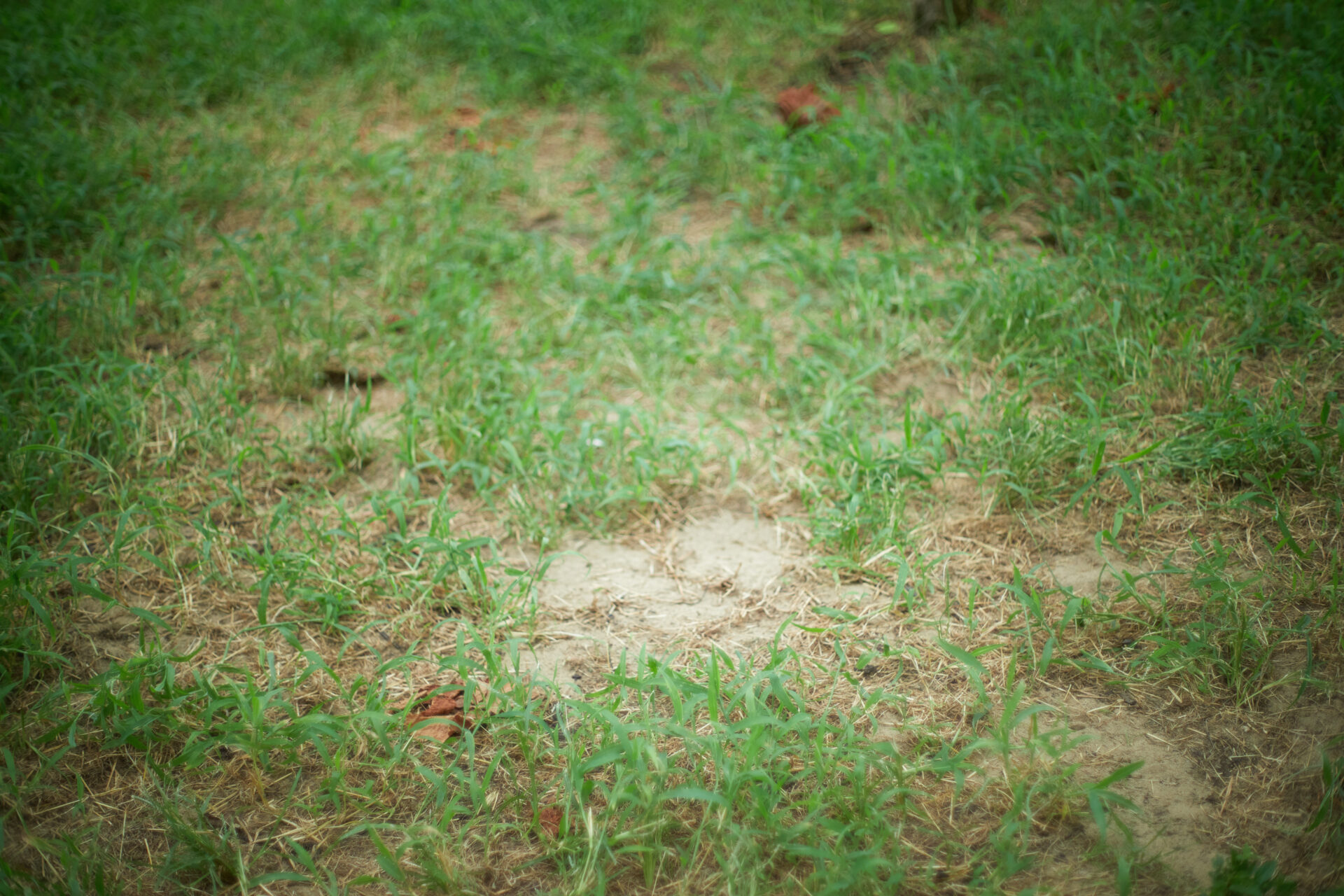 Photographs:SHINJO ARAI
Text:KOH WATANABE
(supported by Ishikawa Prefecture)
Here is the foods introduced.